Tailgater Bundle
Shipping:
Calculated at checkout
---
Product Description
The Tailgater Portable Satellite TV Antenna is like a TV valet – it brings you live HDTV service where you want it. Connect the Tailgater to a compatible DISH® receiver and start watching TV wherever you are – in the parking lot of the big game, on a camping trip, or picnic.
With Pay-As-You-Go TV, there is no contract required, so you pay only for the months you use. When the season is over, simply stop your service without penalty.
Customers that already have a DISH 411 or ViP 211 series receiver only need to purchase the Tailgater antenna.
Customers that DO NOT already have a compatible receiver must purchase the Tailgater Bundle system.
How it Works
The Tailgater Portable Antenna connects to the HD Solo Receiver using a single coax cable (included) and brings live satellite television service from inside your home to the great outdoors.
Setup
Setup for the Tailgater Portable HDTV System is easy. After connecting your devices as instructed in the Receiver Installation Instructions and Quick Reference Guide, follow the on-screen instructions. The Tailgater will automatically find the satellite orbital locations for your DISH Network programming. When you're done watching, simply power down the Tailgater and receiver, disconnect the cables, and take your system with you. It's portable and lightweight, so it's easy to carry from one outdoor activity to the next.
Note: The Tailgater Portable HDTV System will only operate in the 48 contiguous United States.
Tailgater Features
Supports both HD and SD programming
Display resolutions: 480i, 480p, 720p, 1080i
Portable and lightweight with built-in ergonomic handle
Compact to fit any space
Weather-resistant cover
Integrated security bracket
DISH HD ViP 211z Receiver Features
Click for full product details
Supports one independent viewing high-definition (HD) TV with universal remote control
View HDTV high-definition (HD) or standard-definition (SD) DISH Network programming.
Display resolutions: 480i, 480p, 720p, 1080i
Supports Dolby® Digital 5.1 Surround Sound
Widescreen Electronic Program Guide with easy search features
DVR ready
HDMI and RCA Outputs
Specifications
Dimensions: 17.5" H x 16" W x 16" D
Weight: 10 lbs.
Color: White
Packaging Dimensions:
20 7/8" H x 18 3/16" W x 18 3/16" D
Satellite Antennas have a 1 year Manufacturer Warranty from the date of purchase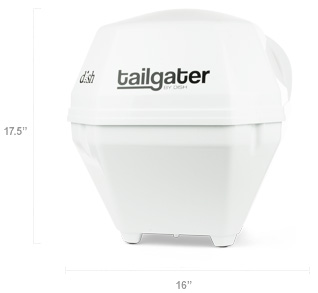 SUGGESTED ADD ON PRODUCTS
International channels are now only broadcasting on satellite 118w and are no longer on the eastern arc. As a result, there are no mobile antennas capable of picking up these channels.
---
Warranty Information
Return Policy - 15% restocking fee applies to all returns. Restocking fee will not be waived under any circumstance. Return shipment fees are paid by the customer. Original shipping fees will not be refunded if returned.

DISH Network Set-top Returns:
30 day return policy applies to unopened and unactivated set-top boxes. Refund will be applied to the credit card used to purchase in the amount of the merchandise less a 15% restocking fee. Activated set-top boxes can only be returned for exchange if defective.
DISH Network set-tops carry a 1 year (365 day) warranty beginning from the date of initial activation. Warranty only covers manufacture defects. Defects arising from misuse by customer will not be warranted.
DISH Network Set-tops under warranty will be exchanged for the same type as the defective equipment (like for like).
Returns must be requested through DISHFORMYRV.COM. Once an RA has been requested, we will process your request and email you the RA number and return instructions.
Customer must obtain a RA number. No returns will be accepted without a return authorization.
Remote controls must be returned with the defective set-top. Should a set-top be returned without a remote, a fee of $59.00 will be assessed and charged to your credit card.
DISH Network set-tops will be tested in our facility. If no defect is found, a fee of $40 will be assessed and charged to your credit card and the set-top returned to you.
Replacement will be sent only when the defective product has been received and tested.
Advanced Exchanges are available upon request. In this process a new set-top is ordered and charged to you through DISHFORMYRV.COM. A refund will be processed back to you after the set-top has been tested.
Shipping Requirements
o Set-tops must be packaged in original package or in a way that will ensure that it is not damaged in transit back to DISHFORMYRV.COM.
o A return authorization number must be written on the outside of the shipping carton. DO NOT write the RA number on the set-top itself.
o Set-top must be sent via a traceable, weighted ship method.

Tailgater:
Within 30 days from purchase date, you may return your Tailgater to DISHFORMYRV.COM only if it is unused and in working order. Used Tailgaters cannot be returned. MANUFACTURER'S LIMITED WARRANTY.

Every Tailgater portable antenna is thoroughly inspected and tested before leaving the factory and is covered by the following one year parts limited warranty from the date of original purchase. One year parts warranty: The customer is not responsible for the cost of replacement parts if the original part is determined to be defective under the terms of the warranty. The customer is responsible for the cost of replacement parts after one year.

If any trouble develops during the warranty period, the customer should contact King Controls at 1-800-982-9920. The customer must contact DISH Network before the warranty period expires. The customer must supply proof of purchase (such as a dated sales receipt) when requesting warranty service. If the customer cannot supply proof of purchase, the warranty period shall start 60 days after date of manufacture.

If inspection shows the trouble is caused by defective workmanship or material, product manufacturer King Controls will repair (or at its option, replace) the Tailgater without charge. When returning product, King Controls will supply an RMA number (Return Merchandise Authorization). This number must be clearly written on the box. Failure to clearly write RMA number on box may result in delays in processing claim. Along with the product, the customer should include in the box: his/her name, address, daytime phone number, and proof of purchase and description of the problem.

This warranty does not cover installation and external wiring, or remanufactured units. This warranty does not cover damage caused by the use of a mounting bracket other than a mounting bracket designed for this product. This warranty is not transferable from the original owner.

If it is determined that the unit needs to be returned to King Controls, customer must return COMPLETE product, freight prepaid, to: King Controls, 11200 Hampshire Ave. S. Bloomington, MN 55438-2453. Due to the expanding and changing TV market, the manufacturer cannot be held responsible for changes made to satellite services. Software updates to address such issues are not covered under this warranty.

This warranty also does not apply where:
The product has been abused, misused, improperly installed or improperly maintained.
Repairs have been made or attempted by others that are not certified by King Controls to do such repairs.
Repairs are required because of normal wear and tear.
Alterations have been made to the product.
The antenna unit has been opened without authorization.
Damage has been caused by power washing.
Circumstances beyond the control of King Controls cause the product to no longer operate correctly.
Customer is not the original owner.

IN NO EVENT SHALL KING CONTROLS OR ANY OF ITS RESELLERS, DISTRIBUTORS OR RETAILERS BE LIABLE FOR ANY INDIRECT, INCIDENTAL, OR CONSEQUENTIAL DAMAGES FROM THE SALE OR USE OF THE PRODUCT. THIS DISCLAIMER APPLIES BOTH DURING AND AFTER THE TERM OF THE WARRANTY. KING CONTROLS ON BEHALF OF ITSELF, ITS RESELLERS, DISTRIBUTORS AND RETAILERS, DISCLAIMS LIABILITY FOR ANY IMPLIED WARRANTIES, INCLUDING IMPLIED WARRANTIES OF MERCHANTABILITY AND FITNESS FOR A SPECIFIC PURPOSE, AFTER THE ONE YEAR TERM OF THIS WARRANTY.

This warranty gives you specific legal rights, and you may also have other rights, which vary from state to state. Some states do not allow the exclusion or limitation of incidental or consequential damages, so the above limitation or exclusion may not apply to you. Some states do not allow limitations on how long an implied warranty lasts, so the above limitation may not apply to you.
---
Find Similar Products by Category
---
Customers Who Viewed This Product Also Viewed